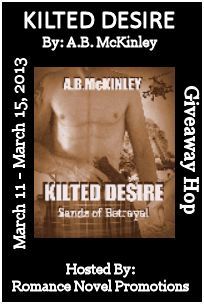 a Rafflecopter giveaway
Sammy's Sweet Reads Blog is also doing a giveaway for some author swag. Please like us on Facebook/Follow us on Twitter and/or Tweet the giveaway to be entered. I will mail out of the U.S if necessary.
a Rafflecopter giveaway
I've already reviewed
Sands of Betrayal
, you can click on the link to be taken to my review. However, I am attaching the blurb and buy link for y'all to easily check out the book.
Sensual! Exciting! Passionate!
Scott Maclaren, a strong, Special Forces Scotsman, terribly injured during his tour of duty in Afghanistan. His journey begins with a broken heart after his wife leaves him for another man during his time in the hospital. Traveling across the Atlantic to visit family, his story now begins.
After years of physical therapy and being alone, things were about to look up. Katie Johnson, a beautiful Ohio schoolteacher, was where his 'dream' of passion and love were to become reality. Smoldering embers became a passionate, raging fire between them. A wanting and desire that burned for one another as neither had ever experienced before.
Scott's love for Katie and her two girls would lead him to great lengths to make all their dreams come true, including a six-month security contract in the Middle East. The money would ensure financial security for life.